Watch these videos to see exactly what Acro is!
Region 7 is a hotspot for acrobatic gymnastics in the United States. Today, there are a total of sixteen teams in our region and we hope to see that number expand in the future. Region 7 encompasses acrobatic gymnastics teams located on the East Coast from Maine to South Carolina, all of which are USAG certified. The region includes athletes from the lowest levels, who are just getting their toes wet with this magnificent sport, to Senior Elites, who have been immersed in the sport for many years.
Region 7 has a number of Elite Level athletes. These Elites hold spots as Junior and Senior U.S National team members. These athletes have earned the opportunity to represent the United States at sanctioned international competitions, World Cups, World Games, as well as performance opportunities on programs like "America's Got Talent."  At the National Level, Region 7 athletes have received awards for Sportsperson of the Year and Athlete(s) of the Year.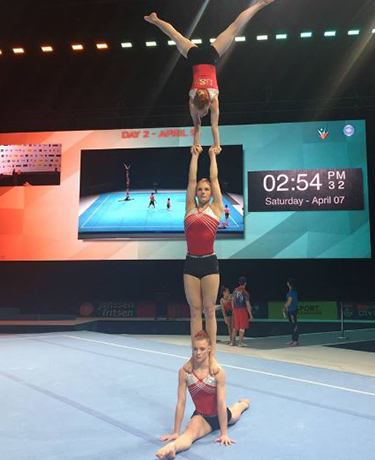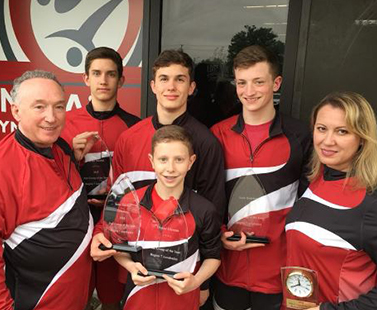 Why do these athletes and families commit to the time, costs, and effort required to excel in this sport? Of course, they love the feeling of doing well in competition, and they each dream of competing on the world stage. But there are so many reasons why acro is the fastest growing sport under USAG. The athletes love doing things that defy gravity and stun onlookers. They love the beautiful routines with sparkling leotards, dance artistry, and gymnastics, all blended perfectly with the music. The support from each other, coaches, and family comes together to create these memorable performances. They love their fellow athletes, and that doesn't just mean the ones at their own gyms. Acro athletes have a unique opportunity to meet athletes and coaches from around the country and around the world to create life-long bonds.
Acro fosters confidence and dedication, exposure to the world, and life-long connections. This makes acro a unique, stunning sport.
For all of these reasons, Region 7 Acro United (R7AU) wants to support this distinct community of athletes, coaches, and their families. R7AU is striving to expand the sport so these athletes may, in the future, have opportunities to receive scholarships, continue their acro career while in college, or simply have an even better experience in the sport. We want to give back to the athletes, families, and coaches that put in so much for this magnificent sport and expand these life changing opportunities to new athletes, families, and coaches.
We appreciate your donations, which will be used to defray the expenses and provide opportunities for success. Thank you!