Region 7 Virtual Block Competition
May 16, 2020

-

May 17, 2020
Attached is: 
Blocks competition overview with directions and full schedule
Athlete line up for qualifications with athlete names
Finals line up (not complete)
Zoom link for all sessions: https://zoom.us/j/5025095907?pwd=ZmFMTCsxTnp5eFIrbjY2MEF6K3NTQT09
Meeting ID: 502 509 5907
Password: acro!
A few important things to note:
Athletes need to login to the meeting as "First Last**"
Anyone is welcome to watch using the link above and feel free to share the link
Please be sure to test your location so that the whole athlete can be seen while competing
Please do not logon until 5 minutes before your specific meeting as each group will be its own meeting due to the 40 min time limit
Tariff sheets and changes need to be emailed no later than 9am tomorrow
If your athlete qualifies for finals you will be notified via email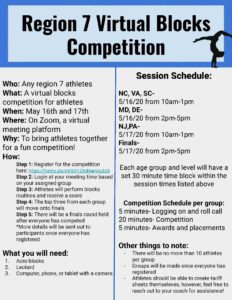 Details:
Who: Any region 7 athletes
What: A virtual blocks competition for athletes
When: May 16th and 17th
Where: On Zoom, a virtual meeting platform
Why: To bring athletes together for a fun competition!
Rules: Xcel Blocks Information and Tariff Sheets
Exceptions: The athletes will be allowed to use: the floor, the small blocks, or regular blocks for the competition
All of the Xcel Blocks rules will be used. Athletes will make their own tariff sheets and upload them to their registration form. If athletes need assistance they should reach out to their coach.
Registration: 
Link to Register: https://forms.gle/z1A615ymmyH1jgRt5
Registration Deadline: May 14th
*Donations: https://www.paypal.com/us/for-you/transfer-money/send-money send to region7acro@gmail.com
*This is not a donation to R7 Acro United.  This is a donation to the Region 7 Acro Comittee.